PRICING, MADE SIMPLE
No hidden fees. No confusing tiered pricing. What you see is what you get.
With Bolt Laundry, there are no contracts. You can schedule weekly pickups if that's what works for you – or – just schedule a pickup when you need it. Our service is easy to schedule and everything can be set up on your phone or computer.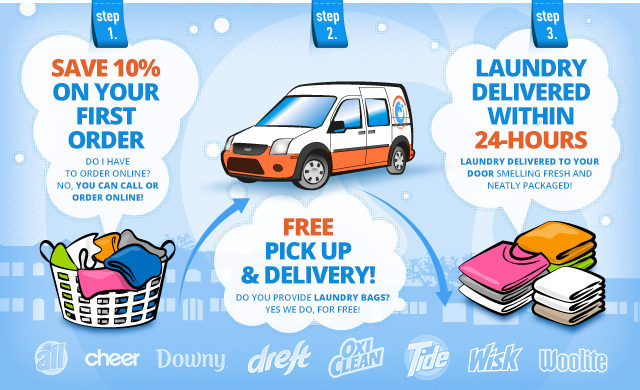 WASH & FOLD PRICES
Wash & fold laundry is charged by the pound (and weighed when it's clean and dry!)
Free Pickup & Delivery Straight to Your Doorstep.
Large Household & Bedding Items Pricing
Large household and bedding items will be removed before weighing and billed on a per-piece basis.
LARGE ITEM PRICING
Large Bedding Items
Comforter (King): $25.00
Comforter (Queen): $22.00
Comforter (Full): $18.00
Comforter (Twin): $16.00
Household Items
Bedspread: $8.00
Cushion Slip Cover: $6.00
Chair Slip Cover: $18.00
Sofa Slip Cover: $23.00
Blanket: $12.00
Pillow Sham: $3.00
Duvet Cover: $16.00
Standard Pillow: $6.00
Mattress cover: $8.00
Dry Cleaning Prices
Expertly cleaned and returned on a hanger.
Pricing List
Shirt (Laundered & Pressed): $5.59
Blouse: $8.99
Sweater: $9.99
Pants: $8.99
Jeans: $8.99
Jacket (Suit, Sport Coat, Blazer): $10.99
Vest: $8.99
Dress (Casual): $14.95
Dress (Formal/Evening Gown): $32.95
Jacket (Light): $17.95
Coat: $22.95
Leather Jacket: $74.35
Coat Down (Short): $24.42
Scarf: $8.99
Apron: $8.99
Shirt (Dry Cleaned): $8.99
Polo: $8.99
Cardigan: $9.99
Shorts: $8.99
Skirt: $8.99
Jumpsuit (Romper): $16.98
Dress (Cocktail/Semi-Formal): $18.95
Wedding Dress Cleaning: $255.71
Jacket (Medium Weight): $22.95
Coat (Long): $27.95
Coat Down (Long): $31.57
Hat: $8.99
Tie: $7.99
Suit (2 Piece): $16.98
Lab Coat: $10.00

Daniel Biden
Great laundry service and same day delivery. Just perfect for a busy person like me. 5 stars from me Bolt Laundry

Jasmine Saunders
Definitely recommend using their laundry service. As a busy mother, this laundry service came in hand when I was unable to allow time for myself to complete laundry for the week. Thank you SOO MUCH Bolt Laundry!!

Ashley Simmons
Great company. Best wash and fold laundry service in Newport News. Great prices as well!!

Chris Morris
Superb laundry delivery service and high quality service. My clothes smell great days after being washed.

Jason Smith
Super easy to book with, the lady who picked up my laundry was very friendly also. Great business ran by a great person.

Sarah Lawson
I started using them for my grand-parents laundry as they needed help. GREAT SERVICE and also very friendly. 5 stars!
Ready to Get Started?