Bedding and Linen Cleaning Service
Linen Cleaning & Dry Cleaning for Bedding or Household Items
Cleaning of comforters, blankets, sheets pillow cases, and linens is often once of the most overlooked task in maintaining a tidy household. Fortunately, Bolt Laundry expertise isn't limited to the clothing that you wear.
Sheets, Blankets & Comforters Cleaning
Professional Service
This experience enables Bolt Laundry to provide the perfect cleaning solution to eliminate any dust mites or bed bugs that may be in your bedding items, while at the same time taking proper care to retain vibrance. The range of household items we can handle is truly incredible.
One Pickup – Three Services
In addition to bedding and linen cleaning, we offer expert dry cleaning and wash & fold laundry – speed, convenience, and quality.*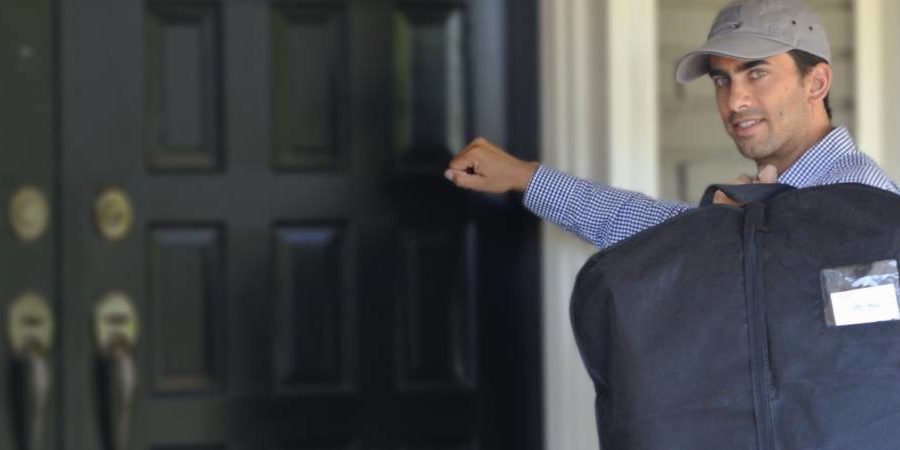 Two Steps to Get Started:
For your first pickup:
Click here or call to schedule a pickup.

Bag your laundry, dry cleaning, and bedding and linen:
Use trash bags or pillow cases for your first pickup…
• Wash & Fold laundry
• Dry Cleaning/bedding and linen

(bag separately from Wash & Fold)
Label your bags accordingly (Your order will be returned with color-coded bags making this unneccessary for your future pickups.)
Gone Today, Back Tomorrow!
Your trips to the store-front dry cleaners may help you get out more, but they don't get your bedding and linen back faster than we can. One-day turn-around is our standard – click or call by 8 am for a same day pickup and next day delivery (business days, Monday – Friday).**
There's no need to be at home for pickups or deliveries. We'll return your dry cleaning/dress shirts on hangers with our heavy-weight Bolt Laundry bag that you can use for your future pickups.
* Please bag and label your bag "dry cleaning/dress shirt laundry" (we'll sort it out); separately bag and label your "wash & fold laundry". ** On an infrequent basis an order may require an extra day to process (e.g., for stains, some household items such as comforters, etc.); please allow extra time for these items. Service days vary by pickup location. Click here for your area.

Daniel Biden
Great laundry service and same day delivery. Just perfect for a busy person like me. 5 stars from me Bolt Laundry

Jasmine Saunders
Definitely recommend using their laundry service. As a busy mother, this laundry service came in hand when I was unable to allow time for myself to complete laundry for the week. Thank you SOO MUCH Bolt Laundry!!

Ashley Simmons
Great company. Best wash and fold laundry service in Newport News. Great prices as well!!

Chris Morris
Superb laundry delivery service and high quality service. My clothes smell great days after being washed.

Jason Smith
Super easy to book with, the lady who picked up my laundry was very friendly also. Great business ran by a great person.

Sarah Lawson
I started using them for my grand-parents laundry as they needed help. GREAT SERVICE and also very friendly. 5 stars!
Ready to Get Started?
By far the most important items to keep clean in your household are your sheets and pillow cases. Yet, sadly, according to survey research that  many people wash their sheets less frequently than once a month. This provides the perfect environment for both unwelcome bodily stains as well as the expansion of dust mites and bed bugs. Bolt Laundry uses state-of-the art cleaning formulas to knock out any stains that lurk on your sheets or pillow cases and also cranks up the temperature to knock out any bed bugs or dust mites. We can handle any type of sheets or pillow cases, from traditional cotton, to cozy flannel, to slippery silk. Bedding comes in a variety of shapes and sizes. There are traditional comforters, wool duvets and hand stitched blankets. The expert dry cleaners at Bolt Laundry have seen them all and know just the right formula to ensure your bedding stays comfy and soft. One of the most important things we do at Bolt Laundry is to assess the construction of your bedding items to identify the proper cleaning method. Certain items such as down comforters require washing with an extraordinarily long drying cycle to prevent feathers from clumping together. Other items, like wool blankets can not be cleaned in water due to the tendency of wool to shrink in water. Bolt Laundry, skills with household items are not limited solely to the bedroom. We are equally adept at handling the pieces that set every room apart: your rugs. Rugs vary widely on size and construction, and also often fall victim to some of the hardest stains like red wine, so it is very important to ensure that you take them to an expert. When faced with a hard stain on an expensive rug, it's difficult to know how to handle and clean such a variety of materials, which is why it's best to leave rug cleaning to the professionals at Bolt Laundry Cleaners. There's a wide variety of stains that commonly befall rugs. Wine stains, food stains, dirt, mud, coffee and animal stains create a huge amount of wear and tear on rugs. That's why it's always in your best interest to get your rugs cleaned by a professional twice a year. Bring your rugs to Bolt Laundry Cleaners. We can thoroughly clean and refresh them. Bolt Laundry is full of highly-trained experts who know how to clean a large variety of materials and stains. Our dry cleaners delivers throughout the Newport News and Virginia Beach areas, so even if you're not close to one of our store locations we'll come to you. Bolt Laundry is proud to provide laundry service delivery to the Newport News, Williamsburg, Hampton, Yorktown, Norfolk, Virginia Beach, Chesapeake Area. Please visit our Newport News, Williamsburg, Hampton, Yorktown, Norfolk, Virginia Beach, Chesapeake page for more information on bedding & linen cleaning service in the hampton roads Area.  At Bolt Laundry , we pride ourselves on providing the best bedding & linen cleaning service and laundry service in the metro area. Our award-winning dry cleaning service is built on three distinct principles that we believe makes our dress shirt laundry service unique. Our first dry cleaning principle is old-world craftsmanship. Our dry cleaners and dress shirt laundry service technicians are the most well-trained and experienced in the industry with decades of experience. We are certified dry cleaners, wet cleaners and environmental cleaners. While we take pride in our commitment to the traditional craft of dry cleaning, we take equal pride in our 2nd principle: innovation. Bolt Laundry ' dry cleaning service uses state-of-the-art technologies to ensure your garments are cared for at the highest level. We barcode every garment and scan it at every step of our cleaning process to ensure your clothing is never lost or misplaced. We clean your garments in the most modern, toxin-free solvents to provide you with the highest dry cleaning quality available. And we use an automated dry cleaning garment assembly and bagging system, which allows us to return your finished dry cleaning to you without every being touched once they have been cleaned and pressed. Our third dry cleaning principle is sustainability.  Bolt Laundry uses a bedding & linen cleaning service method that cleans garments just as well as older and more toxic methods, but without putting those poisons into the environment. Using classic craftsmanship, Bolt Laundry cleans with naturally occurring solvents to ensure your clothes are clean and the environment is not harmed by the process.